---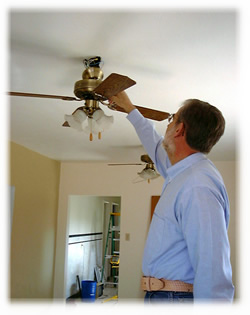 A home inspection is a thorough visual examination of the home and property by a trained and qualified inspector.
A home inspection gives the buyer an impartial, physical evaluation of the overall condition of the home and items that need to be repaired or replaced. The inspection provides a report on the condition of the structural components, exterior, roofing, plumbing, electrical, heating/air conditioning (temperature permitting), insulation, and ventilation, and interior walls, ceilings, floors, windows, and doors.
When conducted appropriately, an inspection will target over 1200 checkpoints in approximately 400 items around the home.
Immediately after the inspection, you will be provided with a comprehensive report in a three-ring binder on the condition of the items listed above.
To Top
---
WHO NEEDS A HOME INSPECTION?
You do, if you are considering buying a home…. The purchase of a home is probably the largest single investment you will ever make. With this in mind, you should learn as much as possible about the condition of the property you are about to buy. Make your purchase an investment that pays dividends – not one that becomes a financial drain. A properly conducted home inspection will alert you to potential faults and can minimize the number of unexpected repairs and expenses you incur. A home inspection provides the buyer with detailed information about the condition of the home in order to make an informed decision. If you are in the market for a house, it is your responsibility to inspect the house to be sure that what you buy is satisfactory. You have the right to carefully examine your potential new home with a qualified home inspector. Additionally, make sure your contract states that the sale of the home depends on an inspection and that the inspection takes place before the deal is closed.
You do, if you want to sell your home….
A pre-marketing home inspection provides the seller with an objective evaluation of the home's current condition. By conducting a home inspection before the house is put on the market, you will be provided with guidance in preparing your home for maximum sales appeal. A home inspection not only promotes a faster sale at a better price, but it also helps ensure compliance with disclosure requirements on real estate contracts.
You do, if you have recently purchased a new home and will soon be approaching the one-year warranty date….
Again, your home is your largest single investment. Have it inspected before your warranty expires. Depending on the terms of your agreement, the contractor may be responsible for costs associated with defective materials and workmanship.
To Top
---
WHAT IS MORE IMPORTANT - A HOUSE APPRAISAL OR A HOME INSPECTION?
It's not a question of which is better or more important….
They are two entirely different reports. An appraisal is a formal process used by a lending agency for estimating the property's value. An appraisal is different from a home inspection in that appraisals are for lenders. Home inspections are for buyers. The lender does an appraisal for three reasons:
• To estimate the value of a house
• To make sure that the house meets FHA minimum property standards
• To make sure that the house is marketable
A home inspection gives the buyer detailed information on the condition of the house.
In a home inspection, a qualified inspector takes an in-depth, unbiased look at your potential new home to:
• Evaluate the physical condition: structure, construction, and mechanical systems
• Identify items that need to be repaired or replaced
• Estimate the remaining useful life of the major systems, equipment, structure, and finishes
To Top
---
WHAT DOES THE HOME INSPECTION REPORT TELL ME?
The inspection reveals…
At RP Home Inspections we conduct home inspections according to generally accepted industry guidelines that meet or exceed ASHI, ISHI, and NAHI standards. Our easy to read report plainly states what was inspected, its condition, and what the industry standard is. Additionally, do not hesitate to call RP Home Inspection after the inspection was completed if you have questions. Your questions will be addressed, or we will revisit the site if you request.
To Top
---
WHAT OTHER ASPECTS OF THE HOME INSPECTION REPORT SHOULD BE CONSIDERED?
A few things to keep in mind....
A home inspection report is not a warranty or guarantee, therefore, buyers should not rely on the inspection as any form of insurance against any latent, hidden, concealed or future defects or deficiencies. Some other key items the buyer should remember when reviewing their inspection report:
• Inspections not code-compliance evaluations.
• Inspection reports are not structural engineering reports. Systems or components of systems that are shut-off prior to the inspection are not normally turned on or activated by the inspector.
• Depending on the roof design, roofing material and weather conditions, the roof may be inspected from a ladder or from street level with binoculars.
• A home inspector is a generalist. It's possible, some specific problems pointed out during the inspection may be referred to a qualified specialist for more in-depth assessment and repair estimates.
• The inspection report is confidential and meant exclusively for the person ordering and paying for the inspection.
To Top
---
HOW DO I PREPARE FOR AN INSPECTION?
Whether the buyer or seller has arranged the home inspection, there are a few things that should be done to facilitate the process and receive maximum benefit from the inspection…

1. Make sure the inspector can access all areas of the house. Clear all furniture, boxes, clothes, toys and other personal items that may block access to the furnace, water heater, electrical panels, attic, crawl space, etc. Inspectors will not enter inaccessible areas.

2. If access to your attic crawl space is located in a closet, remove clothing, shoes and other items. Not only might they be in the way, but also as the hatch is removed, debris such as dust, insulation, loose plaster, etc. is likely to fall from the ceiling onto the items left in the closet.

3. Make sure that all utilities are turned on.
If you are a home owner expecting a visit from an inspector and prospective buyer, the following steps will also make your home more attractive:

• Ensure that the filter in the furnace/air conditioner is clean
• Clear out areas under sinks so they can be inspected
• Replace burned out light bulbs.
• Make sure all of the plumbing fixtures are in spotless condition and in proper working order
• Make sure all doors and windows are operable
• Open all drapes and curtains
• Vacuum/sweep all floors
• Pick up all clutter
• Light a candle/ deodorize the home
• Close all closet doors
• Make the beds
• Clean all counter tops in the kitchen and bathroom
• No dirty dishes
• Remove water and water spots from all porcelain and chrome fixtures
• Clean all mirrors

---
SHOULD I ATTEND THE INSPECTION?
Absolutely! If you can possibly attend, be sure to do so.
Although we will inspect homes without the buyer present, we strongly encourage you to attend. This way, the inspector will "talk" you through the entire inspection, providing you with as much information as possible. After all, the whole point is to provide you with maximum information. Accompanying the inspector offers greater opportunity for you to know the home you are considering. You will see first hand all the nuances – both good and bad of the home. We will show you where the master controls are located (gas shut-off, water main shut-off, electrical disconnects, etc.) and we "tag" these for you so they will be easier to locate in the event of an emergency. The bottom line is that you will learn a great deal about your home which will benefit you in maintaining your home and increasing it's value as your number one investment.
To Top