WHY CHOOSE RP HOME INSPECTIONS, LLC
FOR YOUR HOME INSPECTION?

For a number of reasons…
Independent Home Inspection Agency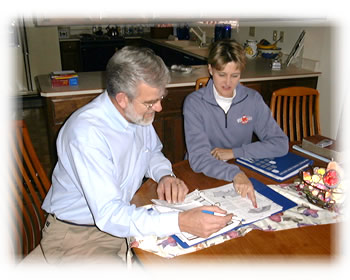 As an independent home inspection agency, we can devote as much, or more time, to your home inspection than the large franchise inspectors. The very nature of a franchise dictates that they must deal in volume to support corporate headquarters and the local office to survive. We believe that smaller is better. It gives us an opportunity to work more closely with you to address your individual needs. As lifetime residents of Pueblo, we know the people, neighborhood and the history of Pueblo, because of this, we think we offer a more personalized service.
Insured
Customer service is our number one goal. To do this, we pledge to provide potential home buyers an honest, accurate and unbiased home inspection report. However, in the event that something is overlooked or that the unexpected happens, we carry full Errors and Omissions as well as General Liability Insurance. You're safe with RP Home Inspections.
Lifetime Pueblo Resident
As a teacher, assistant principal, principal, and district administrator for 32 years, you may know me personally because I had either you or your children in the school system. Or, I may have worked directly with you. If this is the case, then you know that when I commit to a job, I do it, and do it right. I'm a stickler for detail and completing a task on time.
Eleven years teaching construction technology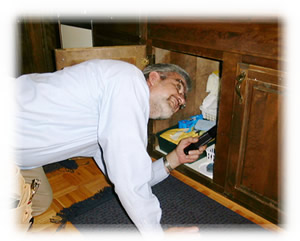 The concepts and skills I taught for eleven years have paid multiple dividends over the years. They served me well over the years in my construction work, as well as with my property management. Many of the skills I learned early in my career are the same skills that were taught during my home inspection training from Inspection Training Associates.
Twenty-one years experience in construction
All phases of residential construction: additions, remodeling, new construction, concrete work, roofing, drywall, finishing, and cabinetry.

Property Management
Nineteen years experience with management of rental property in the Pueblo and Chaffee counties. I am keenly aware of what is involved with purchasing property, owning and maintaining residential property. I perform all of my own repairs, maintenance and upgrades.
The more you know about us, the more you'll like us
Buying or selling a home can be an overwhelming experience. Choosing the correct home inspector can be invaluable in helping you with this important decision. As you read brochures and information on the different home inspectors- some franchise and some independents - it can be a difficult decision choosing who you think will do the best job. Don't be confused by home inspector "certification" offered by societies, companies or obtained via home inspection home study courses. These certificates are available to anyone who is willing to "pay" for them.
More important than membership in a home inspection society is passing the National Home Inspector Examination. As stated by the Examination Board of Professional Home Inspectors, "The National Home Inspector Examination is a home inspection competence assessment tool developed in accordance with accepted psychometric standards, insuring an unbiased, valid and reliable assessment of [an individual's] skill knowledge and experience." The Board also states, "the examination assesses the knowledge, skills and tasks required to perform a competent home inspection, based on a survey of hundreds of home inspectors from all over the nation.
The exam is developed, maintained and administered in accordance with standards that ensure a fair, unbiased and reliable test. I have passed the National Home Inspectors' Exam. Equally important, I have a vast array of experience related to construction, maintenance and repair of homes. Choose someone you know and can trust.
- I am certified and conduct my home inspections in compliance with ASHI (American Society of Home Inspectors) Standards.
-I am FEMA certified ( Federal Emergency Management Administration).
- ITA certified (Inspection Training Association) Trainor of Trainees.